Part of my work as an AIF Clinton Fellow at a nonprofit called Alaap has focused on providing frameworks for key stakeholders that can help solve the climate crisis to engage with systems and design thinking. In order for these frameworks to create lasting and meaningful impact, they need to be able to bring common understanding and reveal compelling system level interventions. Our guiding principle is: wisdom is in the room.
One adaptation of a World Cafe I led brought together five stakeholders representing government officials, corporations, urban architects, education directors, and farmers to help answer the question of how might we create a world with more native forests, restricted geographically to India. With the help of Peter Coughlan and Ariel Raz, I created a framework that guided stakeholders through creating a series of three system maps and identifying the leverage and opportunities in the system. The highest level of intent was to build trust by listening to all stakeholders.
We started by providing the frame:
"407.4 ppm is the amount of CO2 in our atmosphere. Our actions are leading to rising sea levels, suffocating cities, and plummeting biodiversity. Our rural populations are hit especially hard with unseasonal rains, extreme weather, and desertifying lands. Forests is one technology to sequester our carbon dioxide, to reduce global surface temperatures, and restore urban & rural livelihood. The IPCC states one billion hectares of forest is needed to help us stay under 1.5 C of warming. How might we create a world with more native forests?"
For the first systems map, we asked participants to place the post-its of the relevant stakeholders and physical settings that can support a forest onto the subsystem on the board.
We then asked stakeholders to refine the map; adding, subtracting, or creating new subsystems. A total of 98 stakeholders were generated and categorized into 19 subsystems.
For the second map, we split the group into two and asked each group to connect each of the 23 land parcels with stakeholders that occasionally or frequently interact with the land and also to identify the decision makers on these lands.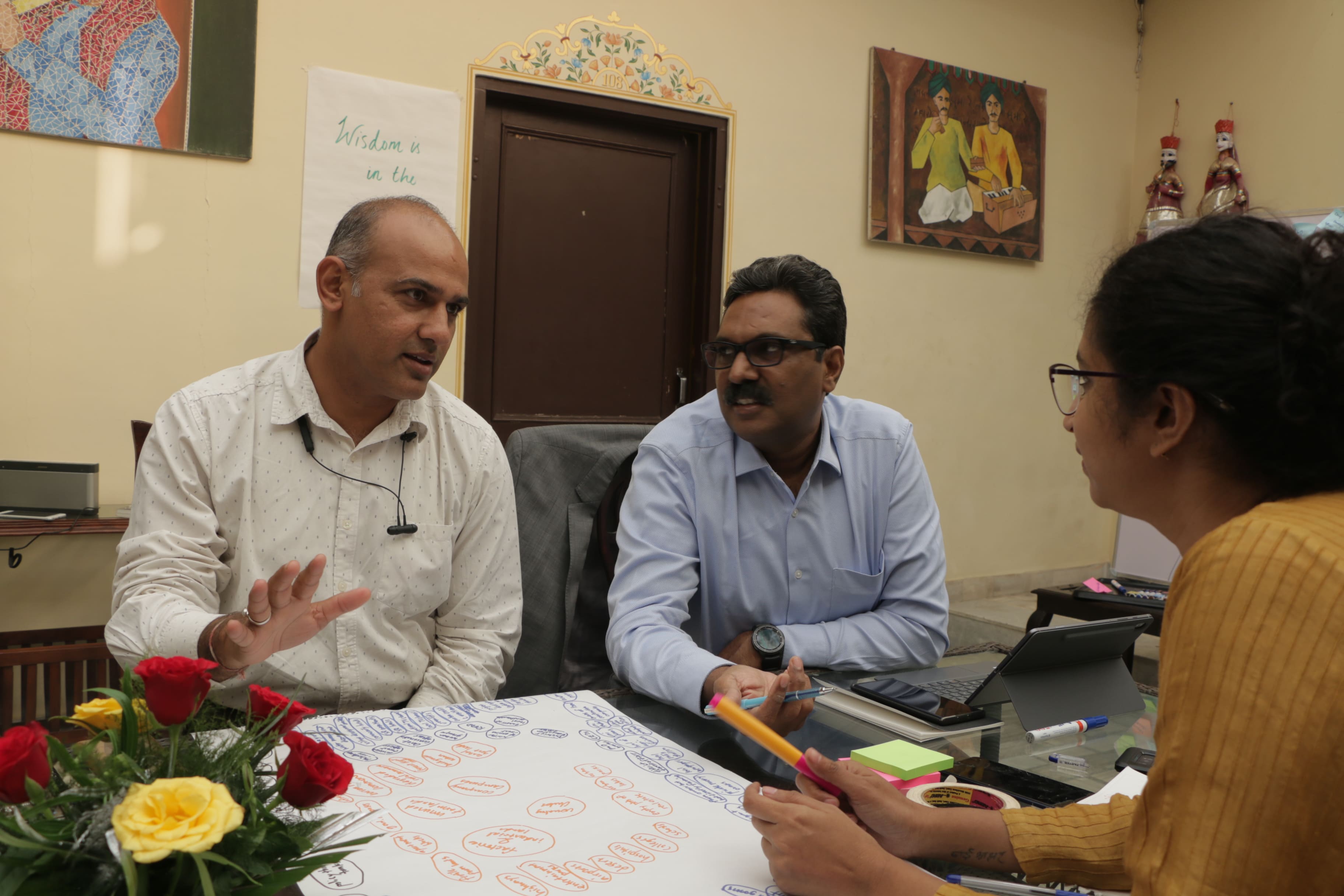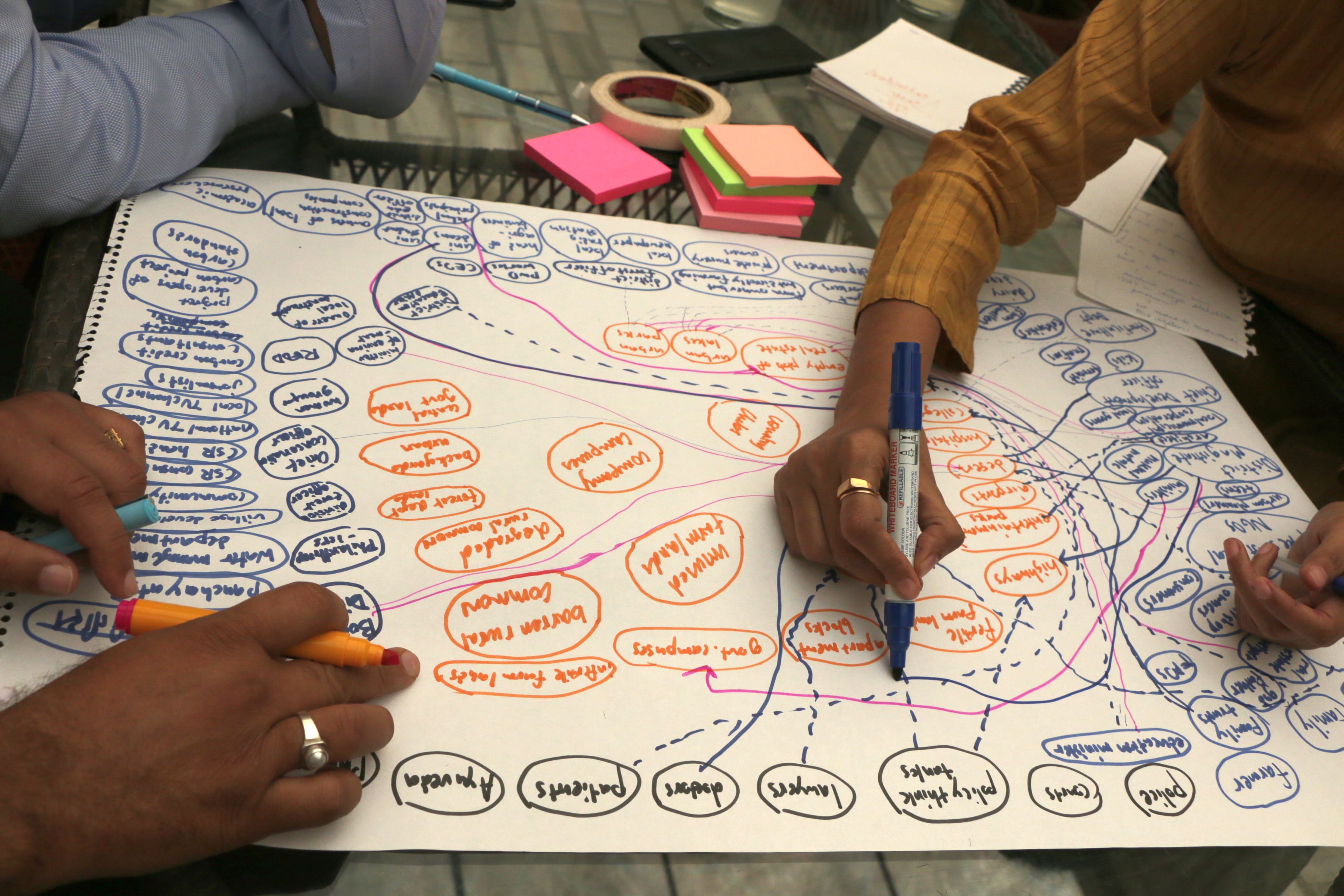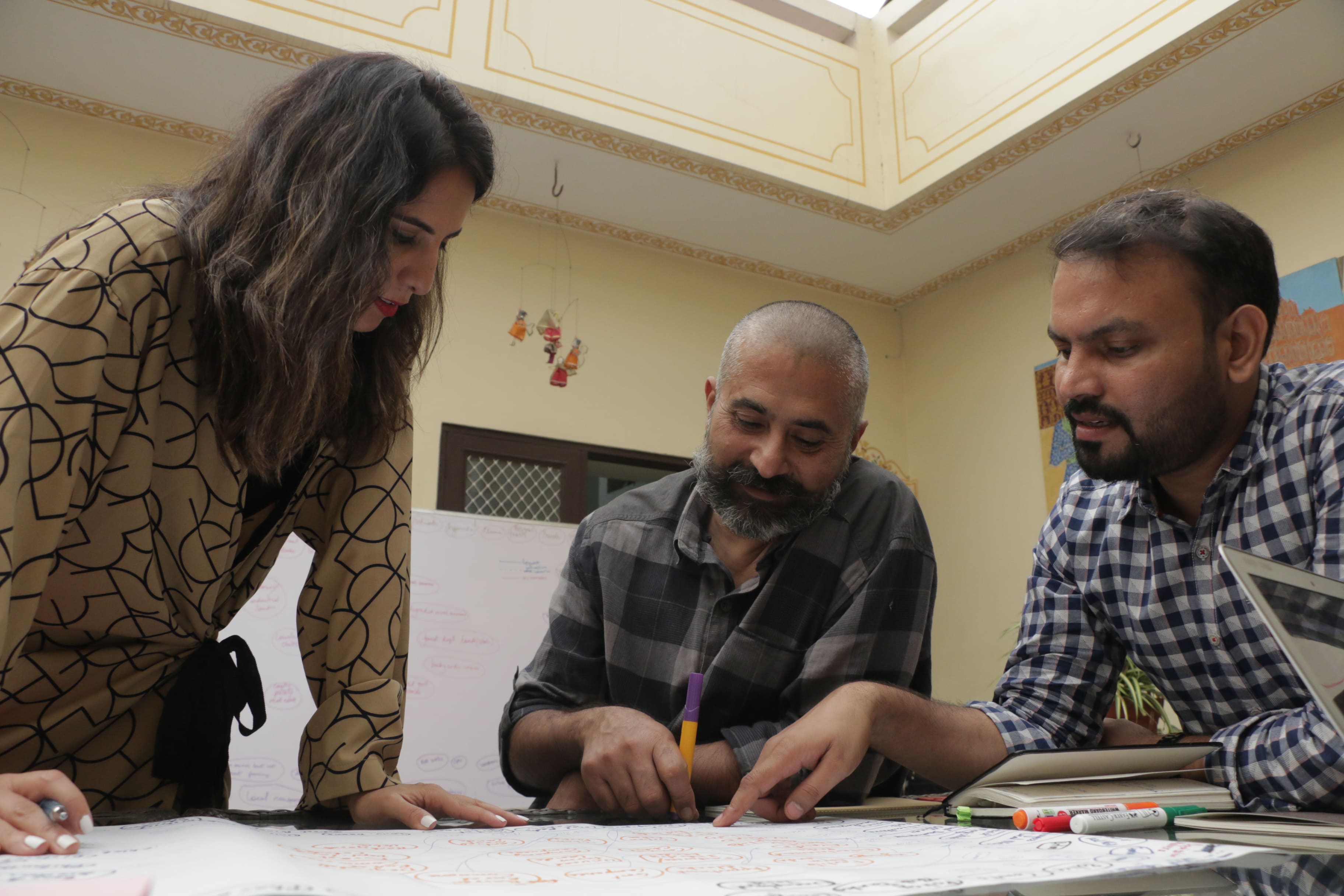 We then had participants combine their maps onto one board using a coding system since every line drawn created inertia.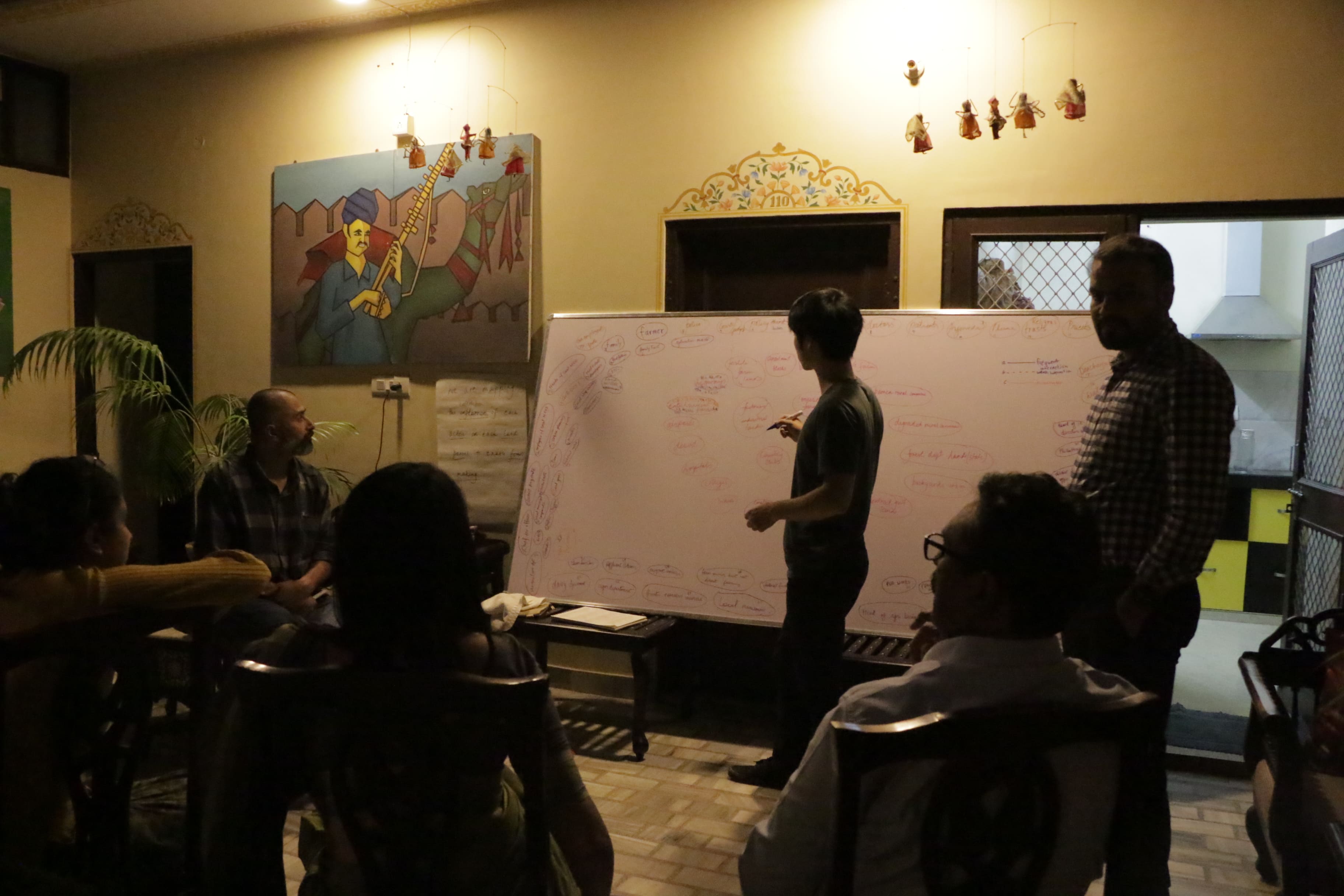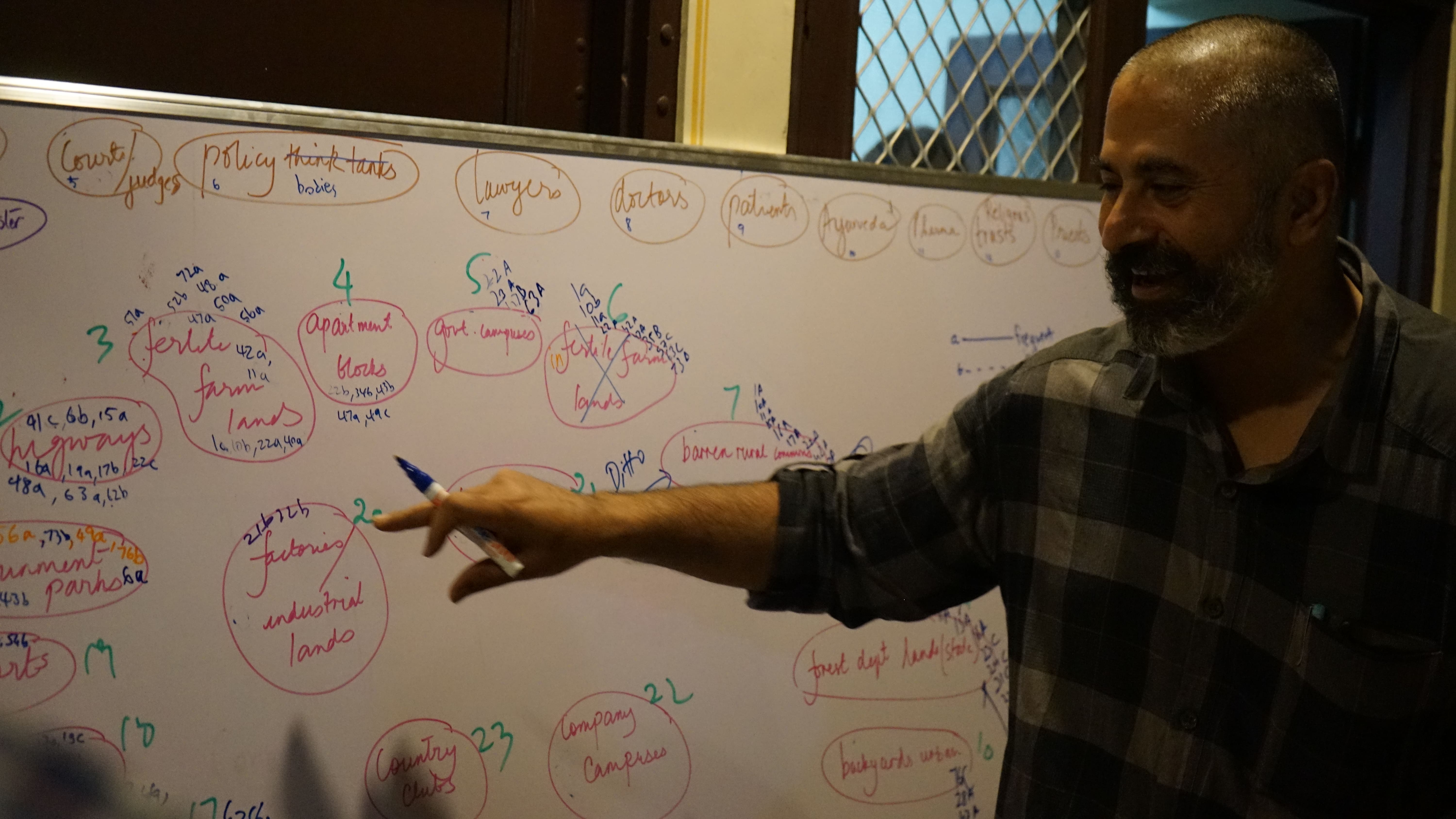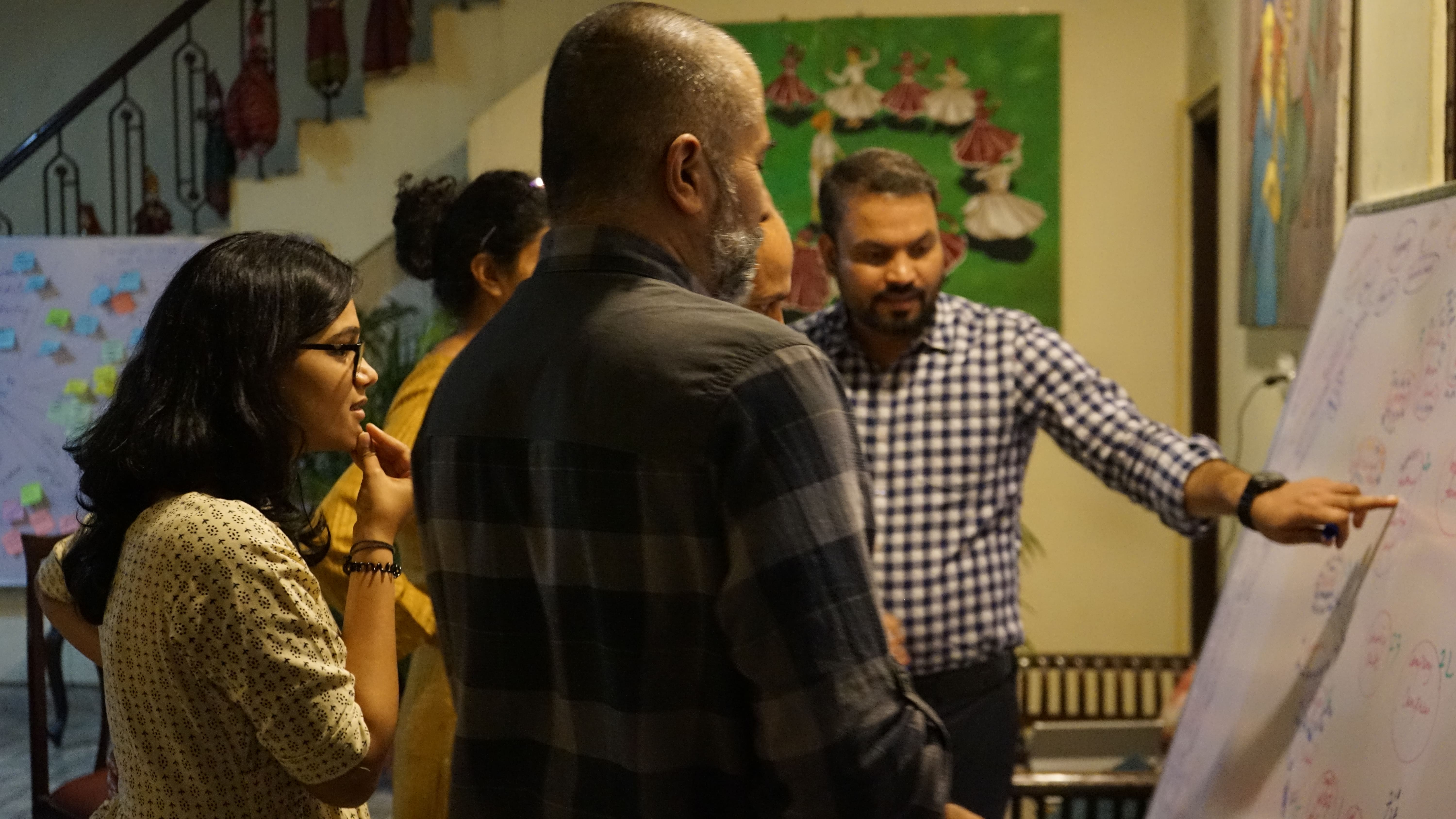 For our last map, participants were asked to identify the five strongest or established and five weakest or emerging relationships in the system. In each relationship, participants were asked to note the exchange of one of the following values: knowledge, influence, material, money, or time.
The next day, we began the debrief of our maps and moved into a discussion of leverage. Where is there positive energy in the system? Where are the barriers? What areas are frozen? What are emerging trends? Each participant was asked to identify three green and three red dots. Green dots represent positive energy or momentum in the system while red dots represent blockages, challenges, barriers, or gaps in the system.
Amoebas were drawn around the green and red dots, denoting potential leverage opportunities or opportunity areas for action.
Interact with our complete systems map on Kumu.
Picture credits to my Co-Fellow Aishwarya Maheshwari.