The past 6 years of my life leading up to the William J. Clinton fellowship have all been part of an incredible journey. It was a journey of traveling; starting with my studies in Asia and South America, followed by a tenure as a Kiva fellow in Africa, and then the Peace Corps again in South America. It was a journey of development; exploring effective means to alleviating poverty through micro-finance, social entrepreneurship, impact investing, and economic development. And it was a journey in learning and growing; challenging myself and constantly pushing the boundaries of my own comfort zone, while trusting that the right next step would magically appear in front of me at the end of every experience.  Each and every one of them has taken me to a new level of knowledge and discovery. Now, nearing the end of this fellowship experience, I know what my next step will be. But I also know what I want to dedicate my life towards.
Entering the William J. Clinton fellowship at the American India Foundation came from a profound desire to go back to India, a country that I deeply loved and wanted to explore further. After I had lived in Paraguay for two years and become fully accustomed to a lifestyle of 'going with the flow', I had little qualms about where I lived in India or what NGO I would be placed with; I just wanted to make a positive difference in some way and trusted that wherever I ended up would be the right place. When I was placed with IL&FS Skills, a training company headquartered on the border of Delhi and Noida, I came into the fellowship with no expectations as to what this experience would be, or how I would benefit the company.
Besides my previous work in entrepreneurship in Paraguay, I had no experience working in the formal skills training space. With my placement at IL&FS Skills, I had the opportunity to learn a lot about the skills development sector not just in India, but globally as well. Working at as prestigious of an institution as IL&FS Skills, who was recently profiled by McKinsey & Company as one of the top two skills training institutions globally, I quickly discovered the importance of vocational education to create employment opportunities for youth seeking jobs. The problem was simple: unemployed youth all over India were looking for work. Growing industries were looking for skilled manpower. IL&FS Skills connected the two by offering training at world-class institutions, enabling young Indians to be trained in a wide variety of sectors, such as hospitality, food and beverage, construction, and retail. They partnered with large institutions all over the country looking for skilled manpower, and provided hundreds of thousands of unemployed youth the opportunity to enter into the skilled workforce at a competitive salary.
When I first came to IL&FS Skills as the only foreigner at their headquarters and met with colleagues who had no idea what a Clinton fellow was, I felt as if I was flying by the seat of my pants. It was initially challenging to figure out my role or how I would be contributing with my background in entrepreneurship and micro-finance. Contracting dengue fever within the first week of the fellowship didn't help either! Yet as the dust settled, my first assignment handed to me was completely different from anything I had done before; market analysis and business strategy for opening training institutes in 10 districts in the Indian state of Uttar Pradesh. Having had no prior experience in research or strategy, I was metaphorically dumped into the deep end of the pool, and it was sink or swim. Through various conversations with helpful colleagues and the short spans of time I could sit with my extremely busy mentor (who ran the entire company), I learned how to analyze supply and demand through the districts' prominent industries and growth rates, how to find statistics to make up their education profile, what their current skills training initiatives were, and where the opportunity gap was for us as a company. The work was challenging and oftentimes difficult to find data on some of the more rural districts in one of the poorest states of India; but the learning opportunity was massive, and I found it utterly fascinating.
Fast forward to January, I was placed on a team to look into expansions in Overseas Placements- a project that became the bulk of my work here as a fellow. IL&FS Skills were interested in training manpower in India and then sending them abroad for work, and I became part of an integral research team that learned how to make it happen. For six months I became an expert on Australia, Singapore, and the Middle East; I spent months reading thousands of pages of reports to learn about prominent industries with skills shortages, countries with an Indian Diaspora presence, visas and emigration laws, existing qualification frameworks, and potential partners for us to link up with. My co-workers on the team, all in senior positions at the company and working on a variety of projects, only had a few minutes here and there to answer my myriad of questions as I struggled to learn how to become a good market analyst. I bunkered down, made Google my new best friend, and organized everything I read into comprehensive reports.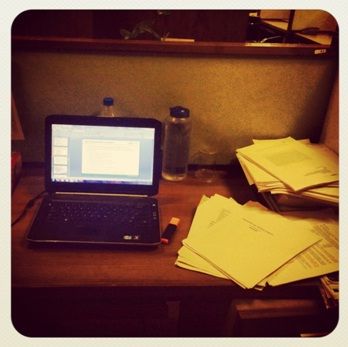 Another day of research and report reading.
As patterns started emerging in front of my eyes and I could not stop myself from gushing about it to anyone that would listen, my mentor sat down with me one day and gave a homework assignment. "Go home and make 10 projections on how IL&FS Skills can enter into overseas placements, based off of your analysis." I spent the weekend calculating how many Indian migrant workers would enter the construction industry over the next 8 years in the United Arab Emirates, and how many foreigners would enter the hotel and tourism industry in Saudi Arabia. On Monday I was able to confidently explain and point to specific statistics as to why Canada and the USA, countries with large migrant Indian populations, were currently not our target markets, or why Singapore had massive potential for Indian migrant workers entering the healthcare industry. The learning was incredible, and I couldn't get enough of it. I started spending my free time watching basic economics tutorials on YouTube and boring all of my roommates with statistics about Dubai.
Finally, I had the opportunity to sit down with the team and develop a comprehensive business strategy based off of our months of research. Every time I was able to sit in on a strategy meeting became the highlight of the week, as I watched and participated with my mentor and supervisor in drawing diagrams, developing matrixes, applying filters to our research, and preparing a beautiful proposal on how the company will execute our plan. IL&FS Skills has now started launching the operations based off of our research and strategy.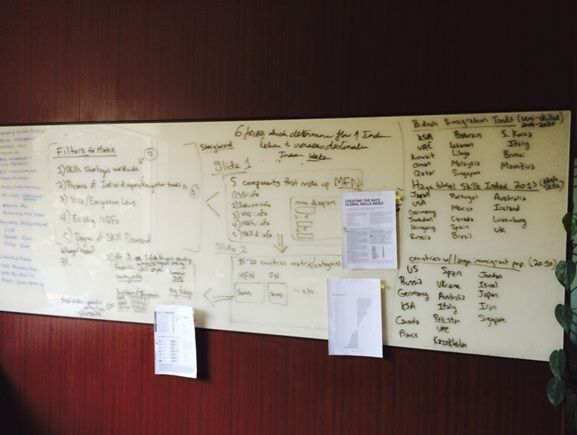 A comprehensive strategy meeting
There were a variety of other projects I worked on while under the umbrella organization at IL&FS Education, such as market research and business strategy on how we could enter the distance education market in Pacific Island Countries, and facilitating a workshop on IL&FS branding with the Communications team. Near the end of my fellowship, IL&FS Skills started looking into consulting opportunities, and I was able to again sit in on my ever-favorite strategy meetings while working with a team on pursuing global business opportunities for the company.
Because of my work at IL&FS Skills, I've come to understand how important it is to research and strategize a market opportunity to help influence decisions on how a company should move forward. I've become intensely fascinated with business strategy, and I see the world in a different way than I did before. I am now entering the field of development consulting thanks to a tremendous learning experience from this fellowship and my placement company. I am grateful to both the American India Foundation and IL&FS Skills for the opportunity to create the next step into my future, which I hope will continue to benefit people all over the world.